Employees of the Centre for Translation Studies help refugees
Employees of the Centre for Translation Studies help people who have fled to or through Austria and organisations supporting refugees. They are involved in the following initiatives: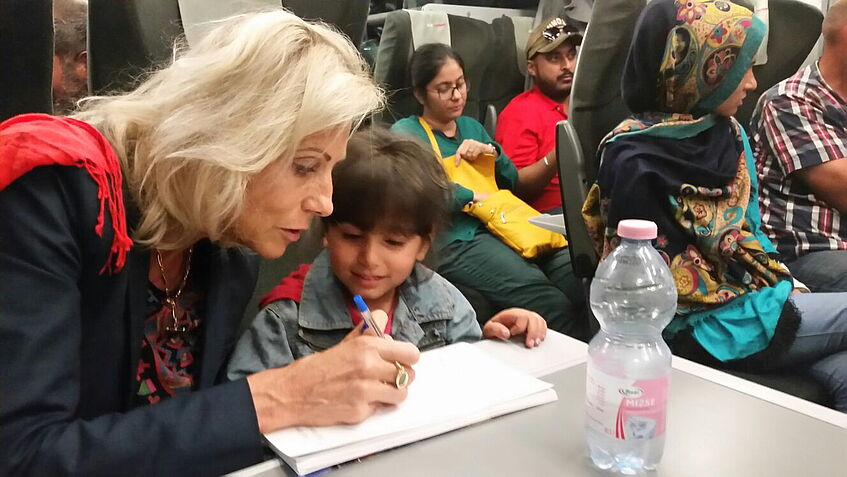 Language lessons
At the Austrian Integration Fund there is a project called "Treffpunkt Deutsch" where lecturers from the Centre for Translation Studies (ZTW) run German courses which are open to all migrants and refugees. Many staff members of the ZTW also take advantage of spontaneous opportunities for language exercises; in the picture left Erna Trubel in Győr/Raab, Hungary, near the Austrian border (photo: ZTW).

Interpretating work in Traiskirchen, at train stations in Vienna, Hungary and many more
Staff of the Centre for Translation Studies carry out voluntary interpreting during the questioning of asylum seekers by the police. The relevant languages have been: Arabic, Dari, English, German, Hungarian, Persian and Urdu – in various combinations. They also offer their interpreting services in non-official settings. E-mail and text message-based networks of interpreters have also been formed in this context which pass on information about the specific need for interpreters of certain languages. Smartphone-based remote interpreting has already been carried out, for example.


Free learning materials, German learning marathon and the Refugee Phrasebook
In a project initiated by the association called "the connection" – German for Young Migrants and Asylum Seekers, in which lecturers of the Centre for Translation Studies (ZTW) carry out voluntary work, learning materials are offered as a free download (for refugees who wish to learn independently or as support for voluntary helpers or teachers). There are also plans for a German learning marathon for refugees involving volunteer teachers and facilitators as well as tandem learning partners. In part, the projects are to be drawn up within the framework of the 24-hour Education Hackathon (which is an element of the StEFFIE Festival (Experimental Fun Festival for Innovative Education) from 25-27 September. Another initiative in which the ZTW will participate is the Refugee Phrasebook project, which will include the involvement of students as part of courses.